EXPLORING THE KAURI COAST AND HOKIANGA
Northland's Kauri Coast and Hokianga is really worth exploring!
By exploring, I don't mean firing up your motorhome and heading up Highway 12, and stopping at the main attractions, like the Matakohe Kauri Museum and the Waipoua Forest. These attractions are justly well known, but that would only be skimming the surface.
We recently spent some time exploring the whole coastline, starting in Kaiwaka and working our way across to Paparoa and Pahi, and then on to Matakohe, Tinopai, Ruawai, and Dargaville, before detouring down the Pouto Peninsula. From there we continued up the coast through Baylys Beach and the Kai Iwi lakes before heading inland to the Trounson Kauri Park and the Waipoua Forest, finishing up in the Hokianga towns of Omapere, Opononi and Rawene,
There is stunning scenery, forest walks, fishing, surfing, quad bike rides, tramping, and isolated beaches. There are some excellent campsites to stay in, as well as great locations where you can stay for free or low cost.
This is summary of what we've found while exploring the Kauri Coast. Click on the links for more detailed information, or to add these locations to your own trip plan.
Kaiwaka
The Kauri Coast starts on state highway 1 in the country town of Kaiwaka - otherwise known as the 'Litlle Town of Lights' because local businesses have decorated their premises with colorful light displays. Kaiwaka is really the entrance to the Kaipara district, and you can detour to Mangawhai, as well as head north to Whangarei and the Bay of Islands, or west to the Kauri Coast.
If you want to stay overnight in Kaiwaka, the 3 Furlongs Hotel offers free overnight accommodation in their parking area, as does the Kaiwaka Sports and Recreation Reserve. At the reserve you can also make use of their showers for a nominal fee - see the Four Square grocery shop on the main highway.
Paparoa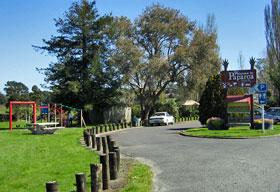 Paparoa Reserve parking area
From Kaiwaka, head north and turn left onto Highway 12 at Brynderwyn. A short drive through Maungaturoto brings you to Paparoa - 'the Village in the Valley.' Along with an award winning restaurant and two cafes, there is also the Lions Club Walkway, which starts in the village green in the town centre, across the river, and then up the hill to an ancient Maori Pa site where there are magnificent views over the harbour and surrounding countryside. The walk takes about 90 minutes at an easy pace.
If you want to stay over, the Paparoa Motor Camp provides secluded and affordable powered sites within walking distance from the town centre, and along the path of the Lions Walkway.
Pahi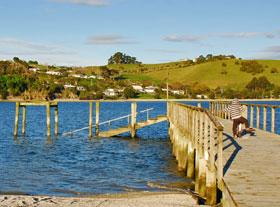 Pahi Pier
From Paparoa it's worth detouring down the peninsula to Pahi - a small harbourside community with a pier, a council owned campsite, and one of the largest known Moreton Bay Fig trees in the world.
It's very popular over the summer holidays and you would need to book in ahead of time. In spring or autumn it's a lovely quiet location to chill out and/or do some fishing from the wharf.
The Pahi Beach Motor Camp has powered sites right on the waters edge.
Matakohe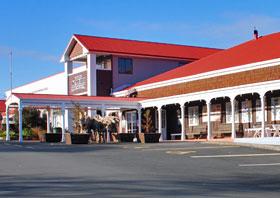 Matakohe Kauri Museum
Matakohe is famous for its Kauri Museum and attracts bus loads of visitors. If you're at all interested in our early pioneering history, with the milling of giant kauri logs and digging for kauri gum, then you could easily spend several hours at the museaum.
There are excellent cafes for refreshments, and the museum allows self-contained motor caravanners to park overnight for free in their parking areas.
If you need to plug into power, or it's time for a decent shower, then the Matakohe Holiday Park is just down the road.
Tinopai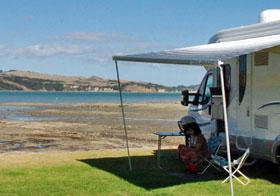 Tinopai Campsite on the beach
Like Pahi, Tinopai is another long detour to the coast. However, the road is all sealed and it's a comfortable 20 minute drive. Located in a sheltered bay on the harbour edge,
Tinopai is a tiny community in a beautiful location. You can go there just to chill out, gather shellfish, or go fishing. The Tinopai Motor Camp is right on the beach, and you can collect oysters from the rocky foreshore right in front of where you're parked. With the shallow beach you can also spear fish for flounder.
A couple of km down the road, past the dairy, is a long jetty - a popular location for fishing.
Ruawai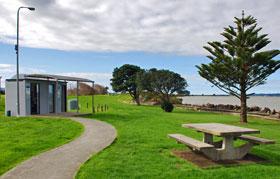 Ruawai Reserve beside the wharf carpark
Heading back from Tinopai on the way to Dargaville, you pass through the rural town of Ruawai. This is one of those small towns that we all tend to drive through without seeing any reason to stop. They do have a very nice cafe, but in a motorhome or caravan, that isn't so much of an attraction.
However, if you drive down to the wharf, you'll find that it is adjacent to a spacious reserve with clean toilets and picnic table all set out and waiting to be used. There's also a children's playground just a short distance away for those travelling with youngsters.
A common theme around the Kauri Coast is the fishing - and the wharf at Ruawai has a big repuation here as well. With a boat ramp into the harbour this is a great location for anyone travelling with a boat or kayaks.
And I nearly forgot - you can park overnight for free.
Dargaville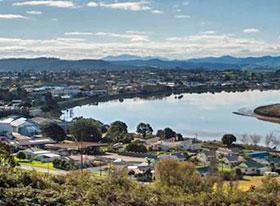 Dargaville from Harding Park
- picture by JimBrack
Dargaville is the commercial centre of the Kauri Coast - which is primarily a rural farming location. Situated on the banks of the Northern Wairoa river, Dargaville is a good base for exploring down the Pouto peninsula, up to the Kai Iwi lakes and the Trounson and Waipoua Forests.
There is a supermarket for topping up on groceries, and a couple of campsites to stay at - the Dargaville Campervan and Cabins just across from the supermarket, and the Dargaville Holiday Park next to the public swimming complex.
If you enjoyed spending time in the Matakohe Kauri Museum, then you'll want to drive up to Harding Park to the Dargaville Museum. The view over the Northern Wairoa River alone is worth it. The museum also features relics from ancient shipwrecks recovered from the coast, and much more.
There is also a boat cruise up the river which makes for a nice change of pace. And, if you enjoy art, the local art community is thriving. You can see some of their works being displayed in the Muddy Water Gallery, and more of it online at Dargaville Arts
Pouto Peninsula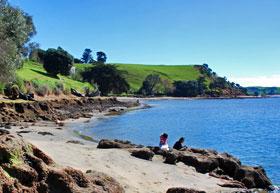 Rocky foreshore at Pouto Point
- famous for fishing
The Pouto Peninsula, at the mouth of the Kaipara Harbour, is one of our forgotten gems. Just a short boat ride from Auckland city, the beach at Pouto Point used to be a very popular location for family outings, and even horse racing down the beach. But those days vanished as more roads were built and boats were no longer the preferred means of transport.
But Pouto Point still has stunning beaches. It is still the largest snapper breeding harbour. You can still sit on the edge of the beach with just the simplest fishing gear and hope to catch one of the large snapper that come to feed on the mussels along the harbour edge.
The only real difference is that you now have to drive down the peninsula to get there. This takes about about an hour and all but the last 22 km are sealed. The Pouto Marine Hall Campground is a very good and inexpensive campsite to stay. Depending on your interests, you could easily spend 2 or 3 days there. Aside from fishing, you can hire quad bikes and explore down the coast. There are some great picnic areas, a lighthouse, and huge sand dunes.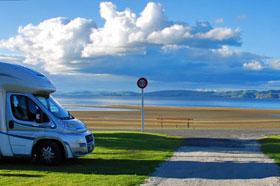 Beachfront parking at Kellys Bay Reserve
On the way back, you might want to call in to Kellys Bay - a sheltered, secluded spot with a great beach and a basic campsite on Kellys Bay Reserve. Even over winter, people come here, either for the fishing, or to just get away from city life.
To complete your Pouto Peninsula experience, drive back to Te Kopuru and detour to Glinks Gully on the west coast. This is a typical west coast surf beach, and very popular for surfing and fishing. The Glinks Gully Campground is on a hill overlooking the beach.
Just north of Te Kopuru, is the Aratapu Tavern, where self-contained motor caravanners are welcome to park overnight for free.
Baylys Beach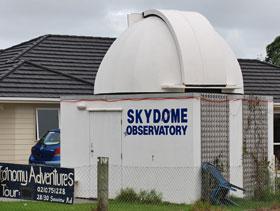 Astronomy Adventures Observatory
Baylys Beach is a large holiday settlement just a little northwest of Dargaville. I grew up in Dargaville, and spent many summer weekends at Baylys Beach, exploring the sand dunes while my grandparents went fishing - surf casting for snapper, netting for mullet, or digging up large juicy toerohas in the sand just above low tide. The fishing is still great, but the toerohas are now protected. The locals still drive down the beach to their favorite fishing spots.
There are now a couple of cafes, and an observatory for star gazing. You can play golf, book into a horse trek down the beach, or hire quad bikes to go and explore the beach yourself.
If you've never looked at the night sky through a telescope, it's worth staying just for that experience. You'll need a clear night though. You can see more on the Astronomy Adventures website.
You can stay at the Baylys Beach Holiday Park if you decide to stay over. It is right next door to the observatory, and also the Funky Fish cafe and restaurant.
Kai Iwi Lakes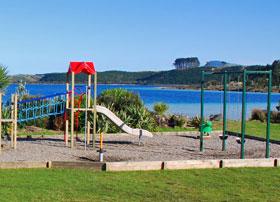 Playground at Kai Iwi Lakes
The Kai Iwi Lakes are a collection of fresh water lakes about 30 minute drive north of Dargaville. There are two campsites that are jointly managed by the Kaipara District Council and the local Iwi. While there are no powered sites, the facilities are excellent and include hot showers at the larger Pine Beach campsite. The Promenade Point campsite is on the other side of the lake.
These lakea are very popular for water sports and trout fishing. On a clear day, they are stunningly beautiful, and over summer you have to book ahead of time to get in. When we visited in early Spring, we had the whole place to ourselves.
There is a walking track around the lakes, and also one that goes across to the west coast beach.
Trounson Kauri Forest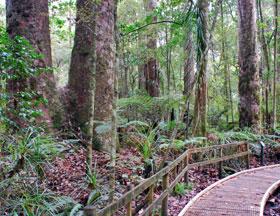 Trounson Park forest walk - large kauri trees
Trounson Kauri Forest is just a little further north from the Kai Iwi Lakes. It is a DOC restoration project that has created a 'mainland island' from 586 hectares of forest and farmland.
You can walk through the forest during the day and also at night - which gives two completely different experiences. During the day, you will see a magnificent stand of kauri trees, showing what the forests used to be like before intensive felling and milling reduced them to farmland. The forest is also home to native brown kiwi, and it is possible to spot them on the night walk. You'll need a torch with a red light, or a red cellophane cover, so that you can see at night without disturbing the kiwi.
To experience the forest, you can either stay in luxury at the Kauri Coast Top 10 Holiday Park, or right at the forest edge on the DOC Trounson Kauri Park Campsite.
Waipoua Kauri Forest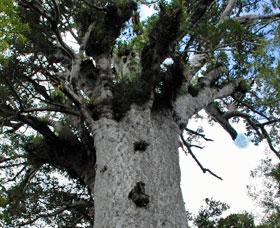 Tane Mahuta - Lord of the Forest
Just a little further north, you enter the Waipoua Forest which is famous for its massive kauri trees - 2,000 year old Tane Mahuta (Lord of the Forest) and 3,000 year old Te Matua Ngahere (Father of the Forest).
Just driving through the forest is worth the experience, but to do so, and not stop to take to short walk to see Tane Mahuta, must rate as some sort of cultural crime! The walk to Te Matua Ngahere takes longer, but is also worth the effort. Both walks are on well maintained tracks.
You can also take a night tour with a Maori guide - a unique experience and very interesting to learn about the forest as a livng environment. See Footprints Waipoua for more information.
You can stay overnight at the Waipoua Campground, run by the local Iwi, who also provide guided walks from the Waipoua Information Centre next door.
Labyrinth Woodworks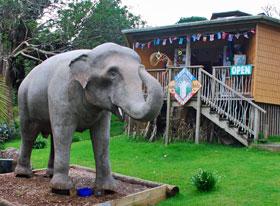 Entrance to Labyrinth Woodworks
When you exit from the Waipoua Forest, you could continue on to the harbour towns of Omapere and Opononi. However, if you've got some time for a special treat, take the right turn into Waiotemarama Gorge Road and a 5 minute detour to Labyrinth Woodworks.
Louis Toorenburg is a local identity with a quirky sense of humour who has been making puzzles since he was a teenager. His shop / puzzle museum will stretch your brain. There is also an outdoor maze to navigate, and if all that mental activity becomes too challenging, you can take a 30 minute walk up to the waterfall, or even a 2 hour loop walk if looking for more of a challenge.
Louis provides a parking area for self-contained motor caravanners to stay overnight with a quiet reserve for picnic meals just opposite. There is not much room though, so check ahead of time if you're planning to stay.
Make sure you return the way you came when you leave Labyrinth Woodworks. Waiotemarama Gorge Road continues on to join up with Highway 12 after Opononi. If you go in that direction you will miss out on a stunning view over the harbour, and a breathtaking drive along the harbour between Omapere and Opononi.
Hokianga Harbour Lookout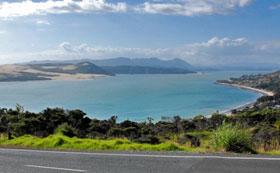 View over Hokianga Harbour
After rejoining Highway 12 you will wind your way up a long hill, finally reaching the top. On a fine day, the view over the harbour and sand dunes that suddenly appears is just stunning. Fortuntately, there is a large parking area where you can stop safely to enjoy the view. If you're feeling ready for lunch, or a coffee break, this is the time to take it.
There is nowhere else in New Zealand like this.
It is also worth detouring to the Arai-Te-Uru Recreation Reserve, where you could easily spend a few hours. There are walking tracks through forest as well as down to the beach. I don't know if you are allowed to park overnight, but I have met some motorhomers who have.
Omapere and Opononi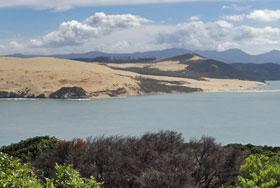 View over harbour and sand dunes from Opononi
Back down at sea level, you will come to Omapere and the Copthorne Hotel, where you can book the Footprints Waipoua tour if you want to do that. The tour leaves from the hotel, but motor caravanners will need somewhere to stay overnight as the tour doen't finish until around 10pm. So, when we did this tour, we continued on to Opononi and checked into the Opononi Holiday Park. The tour guide was happy to pick us up from the campground, and to return us there after the tour.
We were fortunate to be there on a clear sunny day. The drive down the harbour between Omapere and Opononi is picture postcard beautiful. There are interesting landmarks to explore, and the Hokianga harbour is home to some of the best big game fishing in the country. Check out the Hokianga Fishing Club website to see some of the fish being caught.
The Hokianga i-Site is just past Omapere, and there is a room for parking and a nice picnic area overlooking the harbour and sand dunes.
Rawene
The harbour town of Rawene is our last stop on the Kauri Coast. From there you can take the car ferry north to Kohukohu and continue up to the Far North - yet another great place to explore. Or you can head back to Highway 12 and on to Kaikohe and across to the Bay of Islands.
Don't forget to spend some time in Rawene before you move on. There is a very good local art gallery, and the Boatshed Cafe is right on the harbour. There is also a boardwalk through mangrove forest - which is a totally dfferent experience from walking through our kauri forests. If you decide to stay, the Rawene Holiday Park is a good option.
Final Thoughts
The Kauri Coast is not a tourist hot spot. It isn't flash and glitzy. But, if you like stunning beaches, great fishing, forest walks, and New Zealand history, or any combination of these, then you won't be disappointed.