DOUBTLESS BAY AND THE KARIKARI PENINSULA
If you like escaping from the cities to golden sand beaches and crystal clear water, then Doubtless Bay and the Karikari Peninsula is hard to beat.
You can get there by driving north from the Bay of Islands along State Highway 10, or by taking the scenic detour off State Highway 1 at Awanui in the Far North.
Mangonui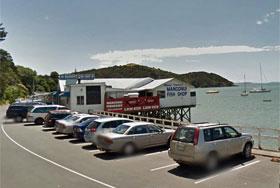 Mangonui Fish Shop
Driving north from from the Bay of Islands, your first stop is Manganui - a small beachfront town that has become famous for Fish 'n Chips dining at the Mangonui Fish Shop. However, it also features a craft shop, a gallery for local artists, plenty of choice for tea and coffee, and pub dining.
For motor caravanners, there is also a reserve, with toilets and a dump station, where you can now park overnight.
The best time to visit is either side of the busy summer holiday season. Mid-December through February can be both hot and crowded with holidaymakers.
There's not a lot of easy parking for large vans in the town when it is busy.
Coopers Beach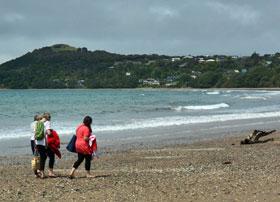 Taumarumaru Reserve Beach
Coopers Beach is the next beach on from Manganui, and is a larger town set back from the beachfront.
You can overnight in the Coopers Beach Bowling Club carpark, where you have access to their bar and restaurant. This is a great opportunity to mix with the locals if you enjoy socialising.
The Taumarumaru Recreation Reserve is just across the road, with it's own parking area and walkways to the beach - a beautiful, north-facing, sheltered bay.
Cable Bay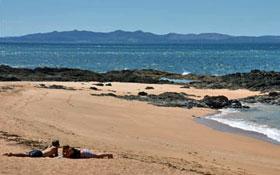 Cable Bay Beach
Just a short distance from Coopers Beach is on one of the most stunningly pretty, golden sand beaches in the North Island. On a sunny day, Cable Bay just sparkles!
Freedom camping is allowed in the Cable Bay Rreserve parking area, right on the beach front. There's a large grass area with a picnic table nearby.
While you are close to a busy road, the location more than makes up for that.
Taipa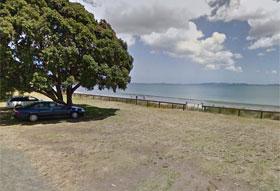 Taipa Beachfront Reserve
The beachfront community at Taipa is the last bay before State Highway 10 heads inland on its way to Awanui.
There is a large waterfront reserve accessible off Taipa Point Rd, and a village atmosphere in the local shopping centre, with a choice of taverns, cafes, and grocery shopping.
Freedom camping is not allowed along the beachfront reserve, following the recent Far North District Council's blanket ban on all but their signposted freedom camping sites. This is a real shame, as it a nice quiet location, well off the main road.
Hopefully this will change.
The Karikari Peninsula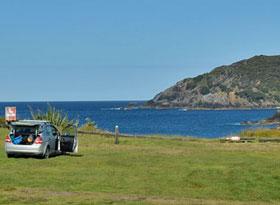 Matai Bay Campground - DOC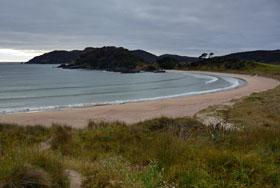 Golden sand beach at Matai Bay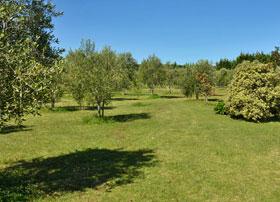 Parking among the Olive trees
The road to the peninsula is well signposted as you continue along State Highway 10. Just over 20 km will take you to one of DOC's most beautiful campsites - Matai Bay!
On the way, you will pass The Tokerau Beach Motor Camp and the Whatuwhiwhi Top 10 Holiday Park - both excellent campsites with access to beautifull golden sand beaches. The fishing is great if you're set up for that. Or you can just chill out and enjoy the beach, going for walks, and the rural environment.
This is a very popular location over the summer holiday season, so we prefer to go in spring or autumn. Even winter can be nice up here.
Another completely different experience is to camp at the Lady Di olive grove. This is a low cost option, but a great experience, and you can buy an excellent quality extra virgin olive oil on site.
But, for us, the jewel in the Karikari Peninsula crown is the DOC campsite at Matai Bay. The campground is on two levels, overlooking Matai Bay. A short walk across a mini-peninsula takes to to an equally beautiful Waikato Bay.
Golden sand, crystal clear water, a rocky shoreline with rock oysters, or great fishing. Travelling with a kayak? - this is the place to use it.
The Karikari Peninsula is one of our favourite locations. However, unless you are staying at one of the campsites, there are no dump stations or fresh water available. For freedom campers, the nearest dump station and fresh water is in Kaitaia.