WAIKATO: COROMANDEL EAST
Cooks Beach Reserve

oppos 5 Marine Parade, Cooks Beach, Coromandel, Waikato
rvexplorer id: 19633
Lat-Long: -36.83238, 175.73263
Beach







Please take careful note of council's designated parking areas.
You now risk a $200 instant fine if you don't park in the area provided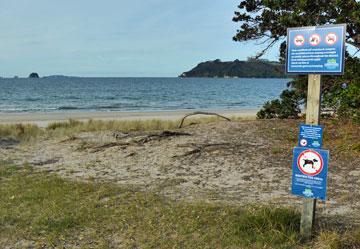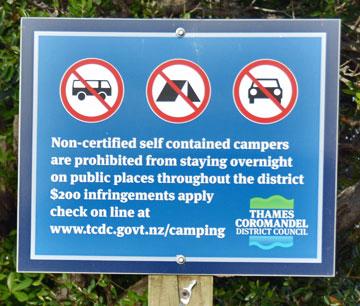 The northern end of the Cooks Beach Reserve has direct access to the beach, and is available for freedom camping in certified self-contained vans.
This is a very nice location, and of course, is very popular over the summer holiday season. For the rest of the year, it's peaceful and a great place to enjoy the beach.
The reserve stretches all along the Marine Parade, but you are only allowed to freedom camp at the northern end. Unlike most other Coromandel freedom camping locations, there were no signs specifying exactly where you must park. Hopefully, this will ultimately become the norm.
The whole beach front is a marine reserve, so no fishing, or shellfish gathering, is allowed.
The reserve is pet friendly, except for the peak holiday times from 15 December to 8 February, and the Easter, Queens Birthday and Labour weekends. You are allowed to excercise your dog off lead at other times.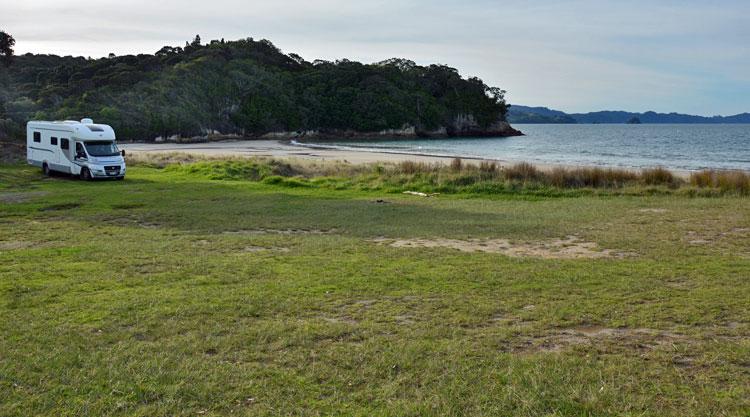 POST A COMMENT:
08:59 AM 18-Apr-16
by Backfire
from Palmerston North
Public
Parked here, closer to the sign than the camper in the photo. We were issued a warning notice that we were in the wrong place at 7am and ordered to move by 8am to avoid a $200 fine. Called the council and all they could tell us is that we must have been in the wrong place. Couldn't tell us where the right place was. Said there should be two signs and is there was only one that we must have been too far from it. We're a Self-contained certified and MCA registered camper. This is definately NOT a freedom-camping friendly spot.