TARANAKI: NEW PLYMOUTH
Onaero Bay Holiday Park

1147 Main North Road, Onaero, Taranaki
Phone: 06 752-3643
rvexplorer id: 17537
Lat-Long: -38.99645, 174.36568
Beach, Town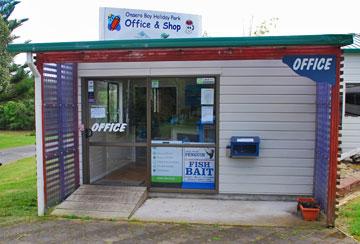 Office and shop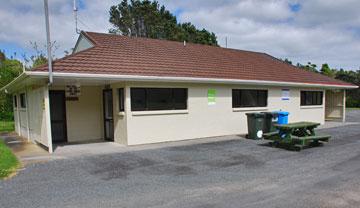 Shower facilities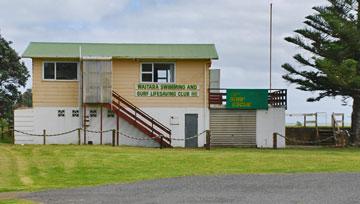 Surf LIfesaving clubhouse and access to the beach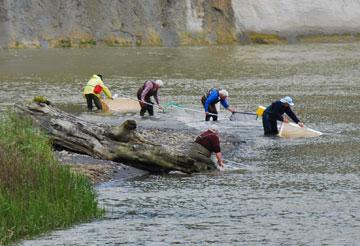 Whitebaiters working the river
The Onaero Bay Holiday Park is a large campsite, straddling the banks of the Onaero river and nestled in an ocean bay. It is beautifully landscaped, with plenty of choice for parking, and is also a very popular location for whitebaiting in season.
It is a good location for fishing and swimming, or just relaxing in a quiet environment. Surrounded by native bush, there is always a sheltered spot to park.
We arrived on a sunny afternoon in the middle fo the whitebaiting season. A small group of enthusiastic whitebaiters we busy trawling the river, and were very happy to take break to chat to a couple of newbies.
If you ever fancy trying your hand a catching this delicacy, Ian, your camp host, is happy to lend you a net. But, if the fishing is good, you're likely to be offered some to try, by one of the more experienced fishers.
Whitebaiting season runs from the 15th August until the end of November.
We had a long chat with Ian, distracting him from mowing the grounds. He told us that the campsite is very popular over summer, but is mostly used by local people living in the Taranaki region.
Taranaki is not really a tourist-focussed location, even though it has stunning scenery, dominated by the majestic Mount Taranaki. There are some of the most beautiful reserves and gardens to visit that we have seen anywhere in New Zealand.
There are plenty of places to stay along the coast and around the mountain, both in holiday parks and for free. There are a variety of community events, including outdoor concerts, a vibrant art scene, and excellent places to eat out.
And it's all sittng there waiting for you to come and vist.
POST A COMMENT: