BAY OF PLENTY: WHAKATANE
Nukuhou Saltmarsh

1034 Wainui Rd (nearby), Ohope, Western BoP, Bay of Plenty
rvexplorer id: 17463
Lat-Long: -38.02043, 177.09841
Rural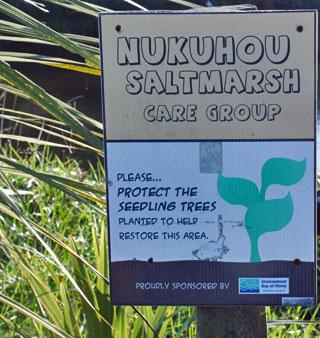 Nukuhou River Saltmarsh Care Group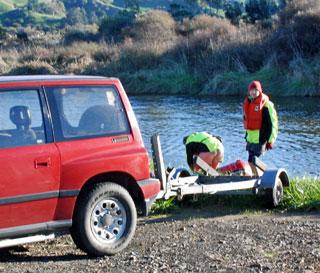 Stuart and Margaret returning from clearing the traps
The Nukuhou Saltmarsh project is one of those low profile conservation projects that gets some assistance from the Department of Conservation and the local Council, but is mostly driven by passionate locals who contribute time and lobby to get funding and resources to restore what was an overgrown wasteland of blackberry and scrub, infested with rats, stoats and weasel, into an environment which is now more like it was originally.
Starting in 2003, a group of local residents formed the Saltmarsh Care Group with the aim of protecting the rarely seen marsh birds that lived around the mouth of the Nukuhou Stream. These included fernbird, banded rail, spotless crake, and bittern, as well as the more common pukeko.
These birds all nest on, or close to, the ground, making them vulnerable to predation by rats, stoats and weasels. Bait stations for rats, and traps for stoats and weasels were set up in a grid around the margins of the saltmarsh, and by 2011, over 200 stoats and weasels had been trapped.
We started the walk around mid-morning to find that Stuart and Margaret were already up and just returning from boating around the river to clear out the stoat and weasel traps. They do this whenver the weather conditions and tide permits.
The Burke Road corner has now been transformed from a rubbish dump, with the removal of weeds, and the planting of native plants. It is now the start of the walking track and boardwalk that runs along the edge of the river, finishing just opposite the Cheddar Valley Pottery, where Stuart and Margaret Slade are also key participants in maintaining the Saltmarsh.
You will see evidence of Stuarts ceramic artwork at both ends of the walking track.
Along the track, the blackberry has been cleared out and the area replanted with natives. Duckboard walkways have been build over areas that have been recontoured and planted with native sedges that provide whitebait with a greater spawning area, making this a popular whitebait fishery in season.
If you walk the track as a visitor, without understanding what you are looking at, it would be easy to leave wondering what all the fuss is about. This is not a manicured garden. It is a natural habitat that has been restored for the benefit of our native birds and fisheries that have been under threat. In the end, we all benefit from protecting the biodiversity of our unique natural environment.
We walked the track from the Cheddar Valley Pottery end, up to the Burke Road lookout, and then back again. It was a brilliant sunny morning with hardly a cloud in the sky, and we had the benefit of listening to Stuart and Margaret tell us about the significance of the project before we started. They offer their parking space at the pottery as a Parkover Property for motor caravanners with self contained vans.
Click here to find out more about the pottery.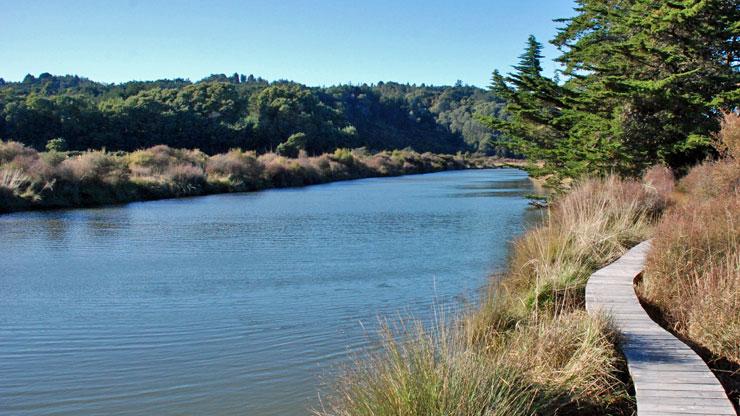 POST A COMMENT: