BAY OF PLENTY: WHAKATANE
Cheddar Valley Pottery

1034 Wainui Rd, Ohope, Eastern BoP, Bay of Plenty
Phone: 07 312-4583
rvexplorer id: 12804
Lat-Long: -38.02916, 177.10654
Rural





We arrived at the pottery late on a Friday afternoon, met Stuart and Margaret, who were still busy working in the pottery, and got ourselves settled in for the night.
The pottery was orignally set up as a butter factory, and then fell into disuse for many years before Stuart and Margaret decided that this would make a great location for a pottery. That was nearly 30 years ago, when Margaret was the potter, and Stuart was teaching in one of the local schools. But Stuart's love was always his art, and when he retired from teaching, he learned how to transfer that passion onto decorative plates thrown by Margaret.
The pottery is now very much a team effort, and also doubles as their only retail outlet. For anyone looking for a special hand made gift, or a unique plate featuring your own motorhome, Cheddar Valley Pottery makes for an interesting location to visit.
Stuart and Margaret's other passion is the conservation project just across the road - the Nukuhou Saltmarsh project that they have been actively contributing to for the past ten years. You will see evidence of their artwork at strategic locations along the walking track that runs alongside the river.
On the following morning, they were up early taking their small boat down to the river so that they could clear the bait stations and stoat and weasel traps before coming back to start work in the pottery.
Click here to see more information about the Saltmarsh walking track.
Stuart and Margaret are also keen motor caravanners, and often take the opportunity to go exploring themselves.
We thoroughly enjoyed our visit.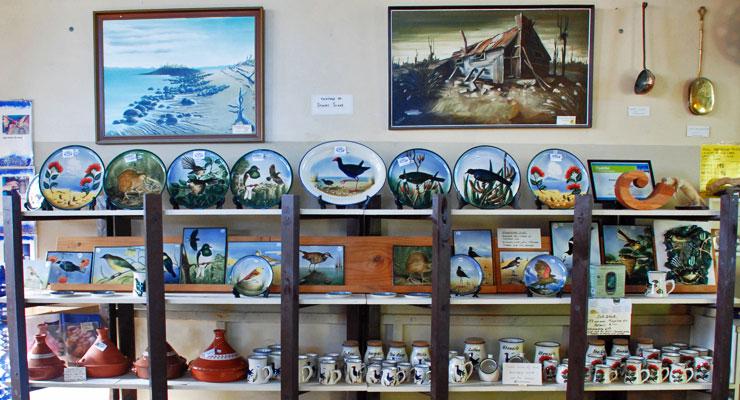 POST A COMMENT: