TARANAKI: NEW PLYMOUTH
Hobson Street Rest Area

1 Hobson Street, New Plymouth, Taranaki
rvexplorer id: 17907
Lat-Long: -39.05051, 174.08448
Beach, Town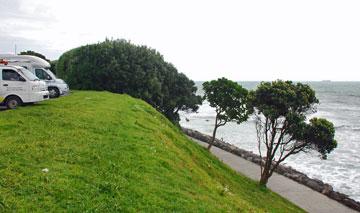 Looking out over the harbour and Coastal Walkway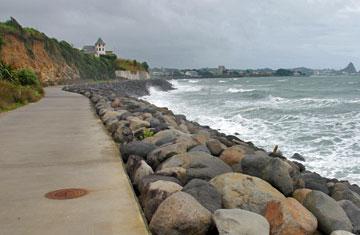 The Coastal Walkway looking South
The public carpark at the end of Hobson Street overlooks the harbour and is a very popular location for local people to stop for lunch, as well as for some quiet time in the evenings. Overnight parking is allowed for self-contained vans.
There are no toilets, and people come and go throughout the day, but this was still one of our favorite locations in New Plymouth. The view is great and we felt safe
It was quite cold and windy at the time, and we were able to park in the corner beside a hedge, which provided some shelter from the wind.
The cartaker for the local sports club told us that this carpark used to be called Pigout Park by the locals because of all the rubbish that was typically scattered around. So the council tried using reverse psychology and removed the rubbish bins, relying on visitors removing their own rubbish. Surprisingly it worked, because there was very little rubbish evident during the time that we were there.
There is access to the Coastal Walkway from the park, and we took the opportunity of walking down to the adjacent park on a sunny morning before we left.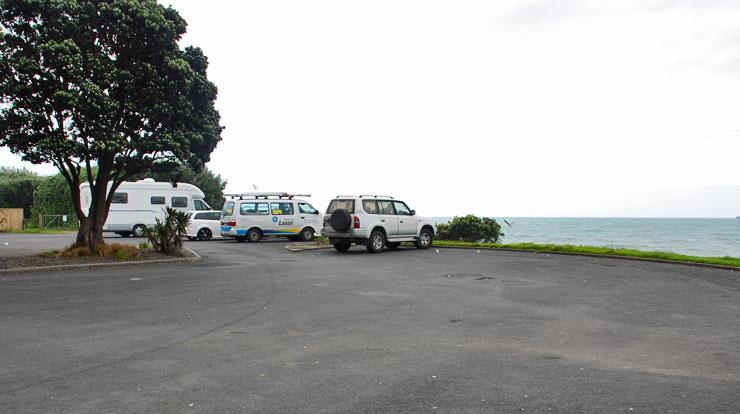 POST A COMMENT: