HAWKES BAY: NAPIER
Te Awa Rest Area

oppos 100 SH2, Te Awa, Napier, Hawkes Bay
rvexplorer id: 19062
Lat-Long: -39.51323, 176.91856
Beach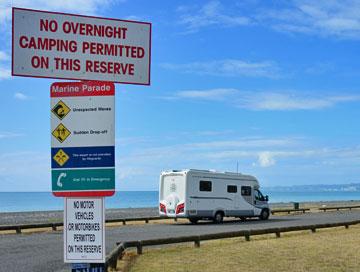 The Te Awa Rest Area is along the extension of the Napier Marine Parade and provides parking overlooking the beach
It's a nice location, and is the next parking area along from the Public Dump Station site. There is a steady stream of people using the cycleway that runs past, and the view out over the harbour is very pleasant.
It's not a large parking area, and vans longer than 9m might have difficulty turning around.
There is is prominent sign forbidding overnight camping on the reserve.
This is yet another example of confusiing messages in the Napier District Council signage - directly underneath it also says 'No Motor Vehicles or Motorbikes permitted on this Reserve'. So presumably the signs refer to the grassed area, which you cannot access in a vehicle anyway.
Likewise, does Overnight Camping apply to overnight parking in self-contained vans, or just to campers in tents?
The reality is that the council doesn't actively enfornce any ban there might be on overnight parking, but you need to be prepared to move on if asked to.
POST A COMMENT: