BAY OF PLENTY: WHAKATANE
Pikowai Campground

State Highway 2, Matata, Whakatane, Bay of Plenty
Phone: 07 306-0500
rvexplorer id: 17472
Lat-Long: -37.85725, 176.66625
Beach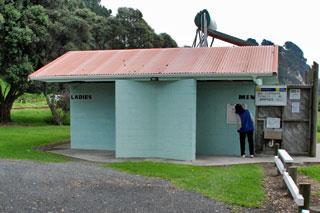 We called into the Pikowai Campsite for afternoon tea and a quick look around before heading south to Wakatane and on to Cheddar Valley Pottery. The campground is fairly basic, but there is plenty of room, although the toilet and showers are at the far end of the campsite making for a long walk for some of the campers.
We chatted to a couple down from Tauranga who was getting his rod set up to go fishing. However, a group of them had come down, and his friends were out on the beach with a quad bike loaded up with a Kontiki Seahorse, so we all went for a walk to to see how they were getting on.
For those who aren't familiar with the Kontiki, it is a battery powered craft that can be sent out into the bay, carrying a fishing line with multiple hooks. On a good day, you might catch 8 or 10 good sized schnapper - or you might catch nothing at all. But that's fishing.
This group had sent their Kontiki 2 km out into the bay, and were in the process of reeling it back in when we arrived. After quite a long wait, the Kontiki reappeared, and the first fish was pulled onto the beach - a large schnapper. Unfortunately, that was their best result, and the next 5 or 6 fish were undersize and had to be returned to swim again.
| | | |
| --- | --- | --- |
| Waiting for the Kontiki to be reeled in | The first scnapper - a nice size | Finally, the Kontiki arrives |
We really liked the idea of carrying the Kontiki on the quad bike, as it would be hard work to carry it, and the battery powered winch, for any distance down the beach. However, that would then need a trailer to two the quad bike behind our motorhome, so we haven't decided on that one yet.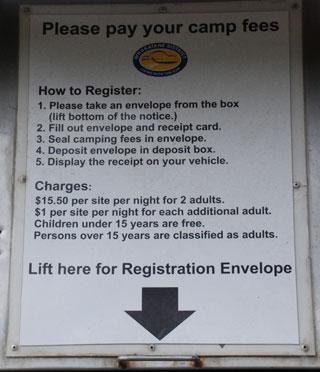 Like the DOC sites, paying the campsite fees is based on an honesty box system, although we did notice that there was also a campsite ranger on site. The fees are very reasonable compared with staying in a holiday park, but you will need to carry the right change to put in the envelope.
Pikowai is a great location to spend a few days, especially if you want to go fishing. If we decided to get a Kontiki, then it is certainly somewhere we would come to try our luck.
POST A COMMENT:
12:23 PM 24-Apr-17
by Denise
from Whiritoa
Public
Lovely campsite with sea views. We planned to stay here but unfortunately could not get internet and I wanted to watch a netball game!!