BAY OF PLENTY: KATIKATI
Kauri Point Reserve

End of Chelmsford Road, Kauri Point, Katikati, Bay of Plenty
rvexplorer id: 17431
Lat-Long: -37.51633, 175.97409
Beach, Forest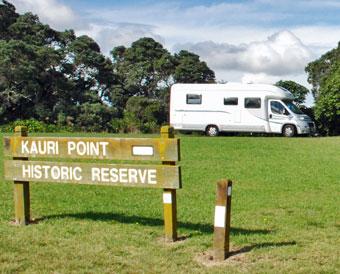 Grassed reserve where we throught we should park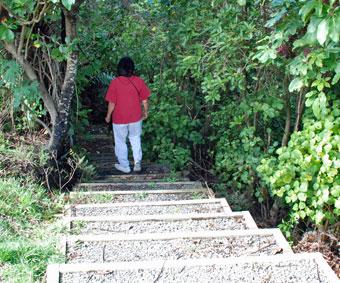 Stairway going down through native forest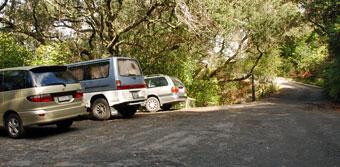 Lower car park at the bottom of the stairway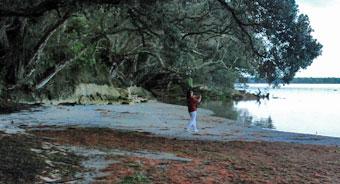 Secluded Kauri Point Bay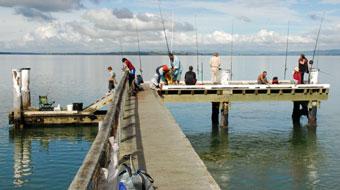 Fishing from the Kauri Point pier
It is only a ten minute drive from Katikati to Te Kauri Point - a small residential community at the closest point to Matakana island.
To get there you pass through farmland that appears to be mainly used for horticulture, and there are a few places offering avocados in honesty box display stands.
On arriving at Te Kauri Point, we found what we thought was the reserve - well, it was sign-posted the 'Kauri Point Historic Reserve'.
Unlike the other reserves in the area, this was all grass, with native forest along the edge and a steep set of steps down to the beach.
So, we parked there, had a quick look around, and then walked down the stairs where we found a small car park at the bottom, just up from a tiny bay with a sandy beach. The sand was covered with debris from the stormy weather of the last few days, but I imagine it wouldn't normally look like that.
Adjacent to the bay was a long pier extending out into the harbour, with 8 or 10 people fishing at the far end, so we walked out to see how they were getting on.
They had been there most of the afternoon, but hadn't caught much. They weren't a very communicative group, so we wished them luck and left them to it.
We then decided to walk back up to the reserve via the road rather than to use the stairs again, and about half way up we discovered where we were supposed to have parked.
This was a tarsealed area with a public toilet and enough room for 2 or maybe 3 motorhomes to park. Surrounded by trees, there was no view of the harbour, and was not an especially attractive place to stay.
Where were were parked didn't have a view either, but at least it was on grass, and was spacious and sunny.
Ah well - we enjoyed our walk around, but decided to move on...
Overnight parking is only for certified self-contained vehicles, and for a maximum of two nights per calendar month. There is also a limit of 3 vehicles, but you wouldn't have room in the parking area for more than that anyway.
POST A COMMENT: