BAY OF PLENTY: KATIKATI
Omokoroa Domain

The Esplanade, Omokoroa, Western BoP, Bay of Plenty
rvexplorer id: 17429
Lat-Long: -37.63269, 176.05212
Omokoroa is a busy, modern community located right at the end of the Omokoroa peninsula. Surrounded by water, there is a large park, with a children's playground, a small shopping centre, including a cafe, and of course, a dump station with provision for overnight parking for certified self-contained motorhomes.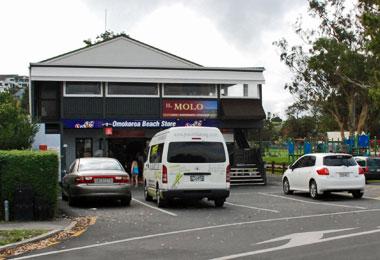 While it is located at the end of a peninsula, it is only 15 minutes drive from Tauranga, and was recently developed as a suburb to be used by commuters working in the city. The population is expected to grow to 12,500 by 2020.
We arrived just as the weather was starting to clear up following heavy overnight rain, so there were still large pools of water in parts of the park as well as in the driveways and parking area.
There was a lot of activity around the shopping centre with cars coming and leaving. There were only a few motorhomes in the car park though.
We went for a walk around the beach, and noticed that there were actually two areas where motorhomes could park, the second area being accessed from a back road, but provided parking right alongside the beach.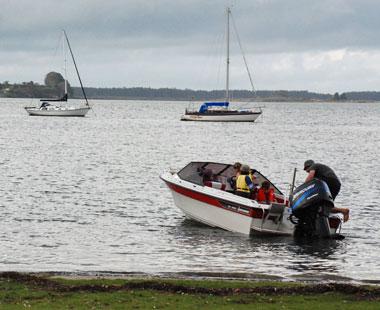 As you would expect in a community surrounded by water, yachts, power boats and fishing are popular activies here, especially on a pleasant Sunday morning.
Overall, it was a nice place to stay, especially if you're looking for a meal out while still parked close by the beach. It was also quite busy as the local people were also taking advantage of the park and shopping.
We were looking for something a bit quieter, and so we continued on to the Pahoia Domain.
POST A COMMENT: