BAY OF PLENTY: KATIKATI
Waihi Beach RSA

rvexplorer id: 17393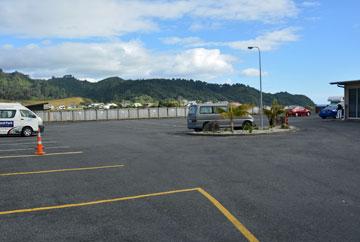 Sealed parking area if the grassed area is full
Soon after taking delivery of our motorhome we needed to drive down to Katikati to sort our a couple of minor problems. Some friends recommended having dinner at the Waihi Beach RSA, so we decided to try it out.
Towards the end of summer, it proved to be a very popular location, with a large grassed parking area close to the restaurant and bar.
For those who might not know, the RSA is the Returned Servicemans Association, and they typically provide quality facilities for their members to relax with friends, have inexpensive meals, or just share a drink in the bar. Anyone is welcome to come in for dinner, but you have to be a member, or be signed in by a member, in order to drink at the bar.
We enjoyed our meal - basic roast dinner, with choice of meat and optional desert. The restaurant was spacious and well attended. For anyone touring around New Zealand, there are RSA facilities in most of the larger towns, and they provide a welcome break from preparing your own meals.
POST A COMMENT: